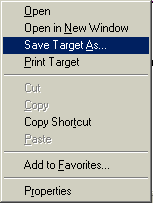 Directions for Downloading the PPC tutorial:
"Right mouse click" the link below that says overture-adwords.pdf You'll see a menu like the one to the right open up.

In Internet Explorer Choose "Save Target As..." and download the file to your desktop (in Netscape you choose "Save Link As..").


* Right click here to download the free pay per click advertising tutorial.