"No Money for Website Promotion?
You Need The Cheapest In-Depth Website Promotion Manual Available...
Read On To Find Out Why You Have Nothing To Lose!"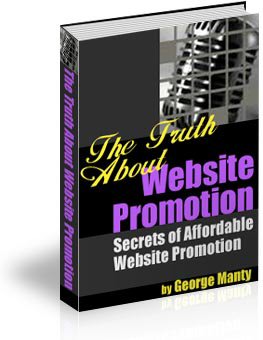 At Last, You Can Increase Website Traffic And Maximize Your Profits Without Wasting A Lot Of Time And Money!

Hi, my name is George Manty. I have written a book called "The Truth about Website Promotion, Secrets of Affordable Website Promotion". This book reveals the secrets that experts use to increase website traffic using search engine optimization (SEO), and other affordable website promotion techniques.

I highly recommend that you take a short break right now and sign up for my website marketing newsletter. Everyone who signs up for my newsletter will receive 4 free ebooks by Internet marketing guru Yanik Silver. I have other surprises in store for members of my newsletter, so STOP what you are doing and sign up now!

Now, let me tell you a little about myself. I am a homeschooling Dad who has been designing websites for the last six years. My oldest son Matthew is eleven years old and currently wants to be a Paleontologist when he grows up. He and I created a website for dinosaurs. We had fun creating it and we hoped to make money from it. The only problem was that to make money from it, we needed website traffic!

That's when I started working on increasing traffic to our site. I went through a long process of driving traffic to our website and I made a lot of mistakes along the way.

These days our site gets tons of traffic, with very little effort. In fact, I spend less than a couple of hours a month on our dinosaur site now and the website traffic is still constantly going up. And here's proof! The graph below is a chart that shows the number of user sessions (visitors) per month.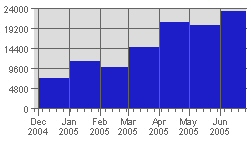 As you can see, our traffic is constantly growing. The graph above shows that the number of unique visitors we have per month has more than tripled from 7164 in December, 2004 to 25914 in June, 2005. The number of hits during that same time period has almost quadrupled from 88,483 hits to 343,589 hits.

A constant increase in online traffic with only a couple hours of work a month! Imagine how many visitors we could get if we spent more time on promoting our dinosaur site!

Why should YOU buy this book?

Because...

Time is Money!

If I could do things over, one I thing I would have done is tried to find a complete guide to getting targeted traffic to my website. A book like this would have been extremely valuable to me, especially, if this ebook were easy to understand for a newbie. I wasted a lot of hours doing things the wrong way! This book along with the other resources on this site will help you do things right from the very START! You WILL save time and money! I really wish I had access to the resources on this website when I was starting. It would have saved me endless hours of doing the wrong things!

Here's What A Few Experts Had To Say About This Book After Reading It:



"I have to tell ya, you have a winner here! I had to read several different ebooks just to get all the information you provided in one place. And I still managed to learn a couple new things to boot!"

Edward Gause
Internet Marketing for Beginners
http://www.trinale.com


---

"This ebook is a concise, organized look at the basics every webmaster should know if they hope to compete for search engine rankings. Well-written and easy to understand ... I'd say that anyone wanting to understand the fundamentals of search engine optimization would do well to read this ebook."

SEO Scoop - SEO news, tips and theories
http://www.seo-scoop.com


---

"As a site we review e-books every day. This publication has to be the best release of the year for the new webmaster. Packed with a ton of useful information into one concise package. Anyone wanting to create a website that ranks well with the search engines can learn from this book"

Affiliate Marketing City
http://www.affiliate-marketing-city.com/





CLICK HERE TO ORDER via SECURED SERVER

This book reveals:
How to Double Your Website Traffic in 8 weeks or less


The Best FREE Tools For Promoting Your Website


How To Get TOP Search Engine Rankings For Your Site


How To Target The Right Keywords


What The Google Sandbox Is And What To Do About It


Over Twenty Ways to Drive Massive Traffic To Your Site WITHOUT The Search Engines


The Top Things To Avoid When Promoting Your Site


A Little Known Secret That Drove Over 3,000 Visitors To My Site In Less Than One Week (and no it didn't involve Traffic Exchanges, SPAM, FFA links, or any other SCAM Traffic techniques)


And Much More!



"But, how much will this cost me?"

If you paid a search engine optimization expert to update your website it could cost hundreds, even thousands of dollars a month. But I am not going to charge you anywhere NEAR that amount!

Originally, I charged $37 for the book. I have always wanted to make this book affordable for everyone. Even at $37, the book was a great value. Many website promotion books and programs with similar information cost 5, 10, even 20 times as much money. However, I have come to realize that for a lot of beginners, even $37 is a stretch. You've already invested money in paying for a domain name, web hosting, and possibly even web design. You're tapped out. You need website promotion to start making some of that money back, but you simply don't have the funds right now. That is why your total investment for my book, "The Truth about Website Promotion, Secrets of Affordable Website Promotion" is now only $9.95. For less than ten dollars, you can access proven methods that will increase traffic to your site, raise your search engine rankings, and, ultimately, put money in your pocket.

Applying the proven techniques in this ebook will more than double the traffic to your website and save you money in the process.

I know that for most of us, money and time are big issues. One of the main purposes of this website and my book is to allow you to learn from the many years I have spent researching website promotion. Quite frankly, there is nothing in ANY ebook that you can't learn yourself. Either by trial and error or through research. However, it takes time to investigate these things yourself. And TIME IS MONEY!

CLICK HERE TO ORDER NOW via SECURED SERVER




Free Bonus #1:

Free Lifetime Updates: of the "The Truth about Website Promotion, Secrets of Affordable Website Promotion". Whenever the book is updated, you'll receive a copy. (an estimated $249 value.)


---



Free Bonus #2:

"The Secret To Winning Every Single Time...
In Everything You Do!"
by Jim Edwards.

The thing I really like about this book is that it is very easy to read, it gets right to the point, and I found the point to be very important for my future online success.

By reading this book you will learn:
How to instantly eliminate competition from your life...


Why "modeling" the success of others might just be the kiss of DEATH...


How to literally be the "only game in town"


A simple, 4-step formula for winning at everything your do
You also get limited redistribution rights to this book (an estimated $199 value).

100% Risk-Free Guarantee:

The "The Truth about Website Promotion" comes with a full 8 Week Money Back Guarantee backed by Clickbank.

I personally guarantee you will learn how to double your website traffic in less than 8 weeks or your money back.

If after 8 weeks, you honestly believe I haven't delivered on this promise then let Clickbank know and they will issue you a prompt and courteous refund. Plus, the free bonus book is yours to keep regardless, just for your trouble.

What assurance do you have you'll get your money back?

Clickbank will be the custodian of your money during the 8 weeks money-back guarantee period. Clickbank guarantees to honor all refund requests made within 8 weeks of purchase, regardless what the reason is.

It's easy to get started right away. Just click on the Secured Order Link below and you'll be downloading the ebook within a couple of minutes.

CLICK HERE TO ORDER "The Truth about Website Promotion, Secrets of Affordable Website Promotion" via SECURED SERVER

Get ready to watch your website traffic skyrocket.

Sincerely,



George Manty

PS. Please take the time to sign up for my website marketing newsletter. It will provide you with valuable internet marketing information that will save you time and money.

P.P.S You might be wondering how high this website ranks in the Search Engines. Let's take a look at how this site ranks for the targeted search term "website promotion book"? The results speak for themselves!

CLICK HERE TO ORDER via SECURED SERVER

We respect your privacy and we will never sell or rent our subscriber lists.

Back to Top



All contents of this website are Copyright 2004, 2005 George Manty
Terms of Use and Privacy Policy
The Website Promotion Book is guaranteed to help you increase website traffic.